Buy tickets for the extra Pharrell Williams UK date here
It's no surprise that an extra UK date had to be hastily arranged for the UK leg of Pharrell Williams' DEAR GIRL tour – announcing just two original dates was never going to satisfy his UK fans.
After tickets for the first two dates (Manchester on 9 September and London on 9 October) sold out within an hour last week, a second date at London's O2 Arena was arranged for 10 October.
Tickets for the new London show go on sale at 9am tomorrow (Friday 30 May), and if last week is anything to go by they're going to sell out fast. Here's the link to buy tickets for the 10 October show at The O2:
Ticket prices
Like last week, there are a variety of different ticket types and packages available for the extra date: Seated, Standing, the Frontin' Early Entry package and the Happy Hot Ticket package.
Ticket prices tomorrow will range between £39.50 and £133.10 depending on what type/package you go for.
For full details on what you get with each ticket package see the details from last weeks tickets below…
Earlier this week Pharrell Williams announced the European leg of his Dear GIRL tour which includes two UK dates – Manchester's Phones4U Arena on 9 September and The O2 in London on 9 October.
Tickets for the two UK dates go on sale today at 9am, here's the link to buy them:
As these are Pharrell's only two headline dates in the UK this year, demand for tickets is expected to be high following a stellar year in the charts for the 'Happy' hitmaker.
Here's a quick all-you-need-to-know guide about the tickets.
Pharrell – Manchester tickets
There are four different ticket types available – the standard Seated and Standing options as well as a Frontin' Early Entry Package and a Happy Hot Ticket Package.
Standing tickets will cost £43.45.
Seated tickets will cost between £38.50 – £49.50, depending on what tier you sit in, see below: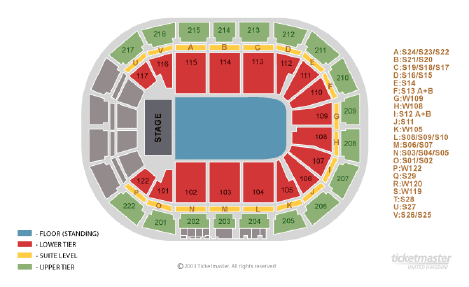 The Frontin Early Entry Package costs between £82.50 – £125.95 and comes with:
One general admission standing floor ticket
•Early Entry Pass – access to the floor standing area before standard ticket holders
•Exclusive Pharrell merchandise item
•Collectible Pharrell tour laminate
•VIP Check-in
•VIP Nation hosts
The Happy Hot Ticket Package costs £132.00 – for which you get everything listed above as well as your choice of one of the top priced seated tickets, instead of the general admission standing ticket. 
All of the different ticket types go on sale at 9am today via the below link:
Pharrell – London O2 tickets
The same four ticket types are available for the London leg of the tour, but they cost slightly more (naturally!).
Standing tickets will cost £44.45.
Seated tickets cost between £39.50 – £50.50. See the seat chart below to get an idea of the different seating price bands:
The Frontin' Early Entry Package for the London O2 show comes with all the same benefits as the Manchester show, and costs between £82.50 – £127.05.
Likewise the Happy Hot Ticket Package is exactly the same in London as in Manchester, and costs £133.10.
Ticket limits
For all ticket types across both venues there is a strict limit of six tickets per person and per credit/debit card.
Good luck with buying tickets. If you miss out, don't be too down as Pharrell may well have a surprise extra date or two up his sleeve so keep your eyes open!