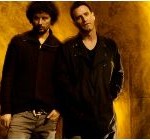 Australian rocker Nick Cave is to add guest vocals to electro-outfit UNKLE's new album.
Speaking to BBC 6 Music, the duo confirmed that Nick Cave will feature on the album, which is tentatively scheduled for release early next year and has the working title 'Day Fall'.
UNKLE only released their latest album, 'Where Did The Night Fall', last month and have been busy on the European festival circuit this summer.
In other news, UNKLE's James Lavelle will be curating an exhibition of art inspired by UNKLE tracks.  The exhibition will take place at the Haunch of Venison gallery in London's Mayfair over the August bank holiday.