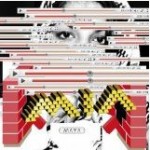 In the five years since she released her debut album 'Arular', Mathangi 'Maya' Arulpragasam has gradually carved a niche for herself as the music scene's foremost political artist.  To be fair, though, she hasn't got much mainstream competition for that particular title, unless I'm missing the subtle socio-political subtext in the works of Katy Perry and Black Eyed Peas!
Throughout her career so far, M.I.A. has courted controversy with her forthright views on subjects like the Tamil freedom fighters and America's 'War on Terror', but over the last month or so the buzz of controversy has reached fever pitch.  She launched a ferocious attack on New York Times journalist Lynn Hirschberg – accusing the writer of misquoting her and responding by posting her mobile number on Twitter.  Then she released the promo video for 'Born Free' – featuring explicit depictions of racism and genocide.  Just recently, M.I.A. has accused the C.I.A. of developing Facebook and Google as a means of control and global manipulation, as well as finding the time to have a pop at the US government's immigration laws.
The more cynical amongst us may see all this as headline grabbing tactics to promote her new album '/\/\/\Y/\' ('Maya' from now on!).  But seeing as she uses the album purely as a platform to express her uncompromising views, I'm willing to give her the benefit of the doubt.
'Maya' opens with 'The Message', a brief techno intro riffing on the paranoia of letting technology so willingly into our everyday lives – 'Head-bone connected to the headphones/headphones connected to the iPhone/iPhone connected to the internet, connected to the Google, connected to the Government'.
After that short scene-setter, 'Maya' kicks off for real with two of the most powerful pop songs of the year.  The heavy 'Steppin Up' boasts a floor-filling chorus that is destined to dominate clubs all summer and the kind of devastatingly anthemic coda that Lady Gaga would give up her wardrobe for.  'XXXO' is a more routine RnB/pop song with another monster chorus.   These simple pop sensibilities haven't gone unnoticed, with Jay-Z's version of 'XXXO' the latest in a long list of M.I.A. remixes currently lighting up blog-land.
After showcasing its pop credentials, 'Maya' then changes direction with the hedonistic electro banger 'Teqkilla' and the stripped down dubstep of 'Lovalot'.  This genre shifting and experimentation proves to be a constant feature of the album.  'Story to Be Told' uses a Bhangra inspired riff as the back-drop to M.I.A.'s most open and unguarded lyrics – "Maybe I am flawed… / But all I ever wanted was my story to be told". 'It Takes A Muscle', a cover of the Dutch group Spectral Display's 1982 song, abandons the originals' ephemeral electro sound for a more reggae-tinged version.
Although the many influences and inspirations on display are impressively woven together, you get the feeling M.I.A. is at her best and enjoying herself on the more upbeat, frantic songs.  Lead single 'Born Free' melds a gloriously frenzied drum beat with scuzzy guitars to create the high tempo distraction to M.I.A.'s in your face vocals – 'Yeah, I don't wanna live for tomorrow/I push my life today/I throw this in your face when I see ya/Cause I got something to say'.
Before the end, 'Maya' has one more surprise up its sleeve.  'Tell Me Why' is a deliciously produced summer sing-along that drips with undercurrents of political dissatisfaction – 'Tell me why/Things change but they feel the same? /If life is just a game/How come people all act the same?'
'Maya' is an album alive with the sounds of conflict, industry, oppression and politics and finds M.I.A. at her abrasive and exhilarating best.
9/10
Buy /\/\ /\ Y /\
from Amazon