So far the Festival Essentials series has looked at the best pop-up tents for festivals and cool camping gear.
Today we'll crank it up a notch and look at your best options for campsite entertainment with Bluetooth speakers – so you can listen to some tunes while getting ready in the morning and then get the party started when you get back to your tents at night.
The below speakers have all been used and tested by us at some point in the past year, mostly at festivals, and they're all approved. If you have any other recommendations please share them in the comments at the bottom…
Betron Bluetooth Pop Up Portable Travel Speaker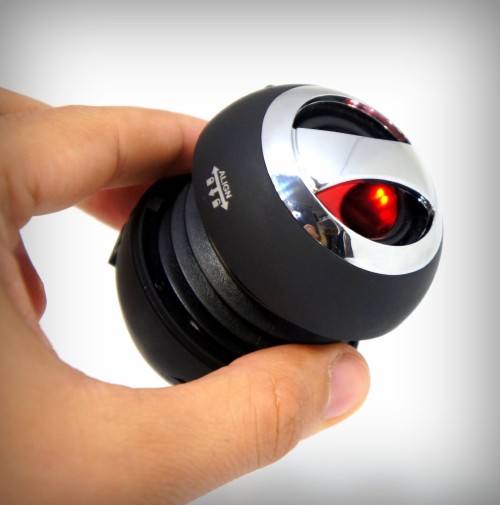 >>> Buy from Amazon now for £16.99
This speaker is perfect for festival camping as it's small enough to not be a pain to carry and cheap enough to not worry about losing or breaking. It connects to any Bluetooth device and also comes with everything you need to connect directly to your phone of MP3 player. It also comes with a lanyard so you can easily take it with you around the festival if you want some tunes while chilling out somewhere.
The sound isn't great, but it's definitely not bad – especially for the price – and you won't find it wanting if you're within 10 feet of it.
[box type="info"] >>> Buy the Beltron Bluetooth pop-up travel speaker here – £16.99[/box]
Rokono BASS+ Mini Speaker

>>> Buy from Amazon now for £14.22
Another cheap and cheerful one, but this one comes with a handy carry case and has a lot of oomph thanks to the 40mm audio driver and innovative expandable bass chamber. The matte-black finish looks cool too.
[box type="info"] >>> Buy the Rokono BASS+ mini speaker here – £14.22[/box]
Anker® MP140 Portable Bluetooth 4.0 Speaker

>>> Buy from Amazon now for £25.99
Little bit more expensive, but as they say: you get what you pay for. The Anker MP140 portable bluetooth speaker boasts an impressive battery life, thanks to intelligent standby and wake modes and sounds amazing. Any device with Bluetooth can stream music to it, and it also comes with a 3.5mm audio jack to connect any non-Bluetooth device.
[box type="info"] >>> Buy the Anker MP140 portable speaker here – £25.99[/box]