***UPDATE! Monday 10 March – The full line-up has now been announced with Queens Of The Stone Age and Paramore confirmed as headliners. See the updated article here. ***
Reading and Leeds Festival organiser Melvin Benn told NME earlier today that the line-up to this year's festival is "unlike anything we've done before".
In full, he said:
"I think it will surprise a lot of people. As ever for us, the line-up's a mix of where popular and alternative music has been, where it is now and where it's going next, across a real spread of genres. There's unquestionably a rock tradition at Reading and Leeds but equally so there's unquestionably a dance tradition at the festival and plenty of other sorts of sounds and audiences. So we try to reflect that. It's a really strong lineup this year. We're absolutely delighted with it."
That naturally got a lot of people chatting, and just now festival organisers have released the below image across social media: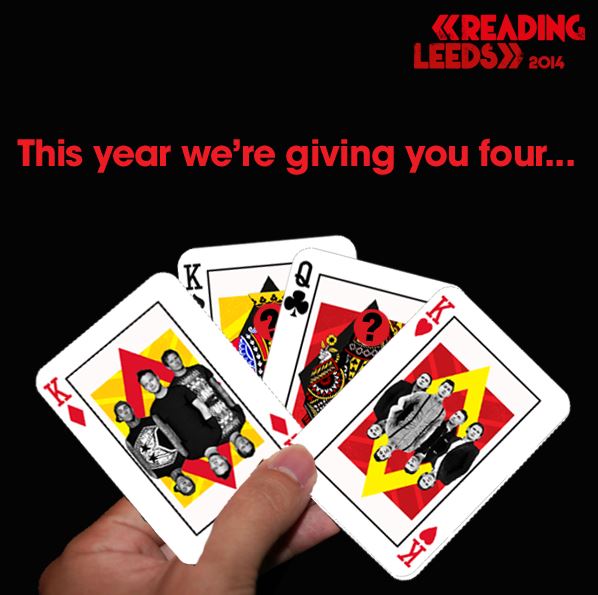 So that must mean there are four headliners, maybe one of which is a woman (three Kings, one Queen) – I wonder how they're going to fit that into the three-day event!?
And more importantly, who are the remaining two headliners going to be?
Blink 182 and Arctic Monkeys have already been confirmed as headliners, and below I've listed the biggest rumours currently doing the rounds about who is going to be joining them:
Kanye West
Queens Of The Stone Age
Paramore
Foo Fighters
Interpol
The Prodigy
Jay Z & Beyonce (would account for the 'four' headliners if they co-headlined!)
The complete line-up will be announced this coming Monday (10 March) – so there's not long to go until we find out. Who do you think will be on the bill?
Tickets are still available for both Reading and Leeds, so beat the expected Monday rush and get them now:
Leeds Festival tickets from Ticketmaster