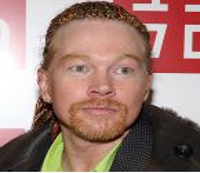 Confusion reigns tonight regarding Guns N Roses scheduled appearance at next weekends Reading and Leeds festivals.
Despite being set to headline the event, an entry on Axl Rose's Twitter account on Monday (August 16) announced that all 'Guns N Roses gigs are cancelled' and that fans should consult ticket distributors for a refund.
Both Axl's camp and the festival organisers moved quickly to dispel rumours and affirm that the front-man's Twitter account had been hacked.  But two days on, the offending tweet has not been removed – fuelling rumours that the 'hack' story is a smokescreen to cover up a dispute between the two camps.
In a bid to assure fans that Guns N Roses will still be appearing, festival boss Melvin Benn has told NME that he is 'absolutely confident' that the US band will be performing at this years festival.