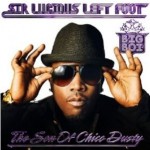 As one half of absurdly successful rap duo OutKast, Antwan 'Big Boi' Patton was the quiet man of hip-hop.  Now with his long awaited debut solo album, his voice is loud and proud…
During his time in OutKast, Big Boi's talent was often overshadowed by the natural exuberance of band-mate Andre 3000.   Not that his contribution was ignored – he was regarded by those in the know as hip-hop's best kept secret – but he was certainly underrated outside of hip-hop circles.  It's no coincidence, then, that he chose to name his debut solo album (OutKast's joint solo project 'Speakerboxx/The Love Below' don't count!) after his and his late father's nicknames.  It's an overtly personal touch that suggests that Big Boi intends to keep the focus on himself with this release.
Despite being delayed for nearly five years and being stripped of most of the original tracks featuring Andre 3000 due to record label wrangling, 'Sir Lucious Left Foot…' still manages to sound relevant and cohesive.  Some lyrics seem a bit dated, a few about Obama in particular, but other than that there's no real sign of the label trouble that has plagued the album's release.
After the funky piano led Feel Me (Intro) the album jumps into life with the brilliantly titled Daddy Fat Sax, a storming declaration of intent that sees a bullish Big Boi revelling in his position as the focal point, throwing out cocky lyrics with reckless abandon: 'Watch me stimulate the minds of the masses', 'the stars aligned when they made me', 'I'm on another planet' etc…
As well as showing off his rapping skills, Big Boi also flexes his considerable studio muscles.  Turns Me On is the smoothest slice of sexy RnB since Prince was any good. While Tangerine channels the spirit of Snoop and Pharrell's Drop It Like It's Hot, but transforms it into something deeper and altogether more satisfying.
The album's first official single (a lot of tracks were leaked during the label 'issues'), Shutterbugg, is also its best track.  Heavy bass and cascading synths combine with a blistering rap and party lyrics ('Now party people in the club it's time to cut a rug') to create a senseless, but massively fun, club anthem.
If Shutterbugg wins the best song award, then Follow Us deserves a nod for best chorus.  Featuring Vonnegutt, who are signed to Big Boi's label, Follow Us starts off as a run-of-the mill hip-hop song.  The silky beats and rhymes soon give way, though, to a huge rock chorus that shows Big Boi is adept at mixing influences and blending genres.
The collaborators on 'Sir Lucious Left Foot…' are not just restricted to his label buddies.  Jamie Foxx lends his smooth vocals to the poignant Hustle Blood.  Highly-rated rapper Yelawolf turns up on You Aint No DJ and Grammy-nominated Janelle Monae features on the tender Be Still.  The most notable of all the collaborators, though, is the original funk-father, George Clinton, who appears on Fo Yo Sorrows.
Although most of 'Sir Lucious Left Foot…' hits the spot, some tracks don't quite work.  General Patton chases an epic feel that proves to be just out of reach, while Back Up Plan is just plain boring.
On the whole, though, Big Boi's first solo effort leaves you with a sense that he is just getting comfortable in his new guise as front-man, and that there is definitely more to come.
8/10
Buy Sir Lucious Left Foot: The Son of Chico Dusty
from Amazon