UPDATE – 4 June
The actual stage times for the main stages have now been announced so you can start planning your days a bit more!
Here's the full schedule:
Pyramid Stage times
Friday
Arcade Fire 22.00-23.45
Elbow 20.00-21.15
Lily Allen 18.30-19.30
Rudimental 16.45-17.45
De La Soul 15.15-16.15
Rodrigo y Gabriela 13.45-14.45
The War on Drugs 12.30-13.15
Turtle Island 11.30-12.10
Saturday
Metallica 21.45-23.45
Jack White 19.30-20.45
Robert Plant 17.30-18.45
Lana Del Rey 16.00-17.00
Kelis 14.30-15.20
Angel Haze 13.15-14.00
Nitin Sawhney 12.00-12.45
Nick Mulvey 11.00-11.40
Sunday
Kasabian 21.45-23.15
The Black Keys 19.45-21.00
Ed Sheeran 18.00-19.00
Dolly Parton 16.20-17.30
The 1975 14.45-15.35
Toumani & Sidiki 13.30-14.15
Caro Emerald 12.15-13.00
English National Ballet 11.30-11.50
The Other Stage times
Friday
Skrillex 22.30-23.45
Paolo Nutini 20.45-21.45
Interpol 19.15-20.15
Foster the People 17.50-18.50
Haim 16.25-17.20
Band of Skulls 15.10-16.00
John Newman 13.50-14.45
Blondie 12.15-13.20
TBA 11.00-11.45
Saturday
Jake Bugg 22.30-23.45
Pixies 21.00-22.00
Manic Street Preachers 19.30-20.30
Imagine Dragons 18.00-19.00
Kodaline 16.30-17.30
Warpaint 15.00-16.00
Midlake 13.40-14.30
Circa Waves 12.30-13.10
Jake Isaac 11.30-12.00
Sunday
Massive Attack 22.00-23.15
Ellie Goulding 20.30-21.30
Bombay Bicycle Club 18.50-19.50
The Horrors 17.20-18.20
Sam Smith 16.00-16.50
White Lies 14.40-15.30
Lucy Rose 13.30-14.10
The Subways 12.10-13.00
Bajofondo 11.00-11.40
John Peel Stage times
Friday
Kaiser Chiefs 22.45-23.45
Lykke Li 21.15-22.15
Chvrches 19.45-20.45
Wild Beasts 18.15-19.15
Crystal Fighters 17.00-17.50
Poliça 16.00-16.40
Temples 15.00-15.40
Drenge 14.00-14.40
Jungle 13.00-13.40
Money for Rope 11.50-12.30
Echo and the Empress 11.00-11.30
Saturday
MGMT 22.45-23.45
Chromeo 21.15-22.15
Little Dragon 19.45-20.45
Clean Bandit 18.15-19.15
Courtney Barnett 17.00-17.40
Wolf Alice 16.00-16.40
Fat White Family 15.00-15.40
Royal Blood 14.00-14.40
Hozier 13.00-13.40
Reignwolf 11.55-12.40
The Black Tambourines 11.00-11.30
Sunday
London Grammar 22.15-23.15
Chance the Rapper 20.45-21.45
The Brian Jonestown Massacre 19.15-20.15
Bleachers 18.05-18.50
King Charles 17.00-17.40
Dry the River 16.00-16.40
TBA 14.35-15.30
George Ezra 13.50-14.20
Lonely the Brave 12.50-13.30
The Preatures 11.50-12.30
Darlia 11.00-11.30
For how good a festival Glastonbury is, it's really lacking when it comes to the design of it's line-up posters! Not only do they always looks terrible, but they don't give much away in terms of when exactly the acts are playing. Look at it for gods sake: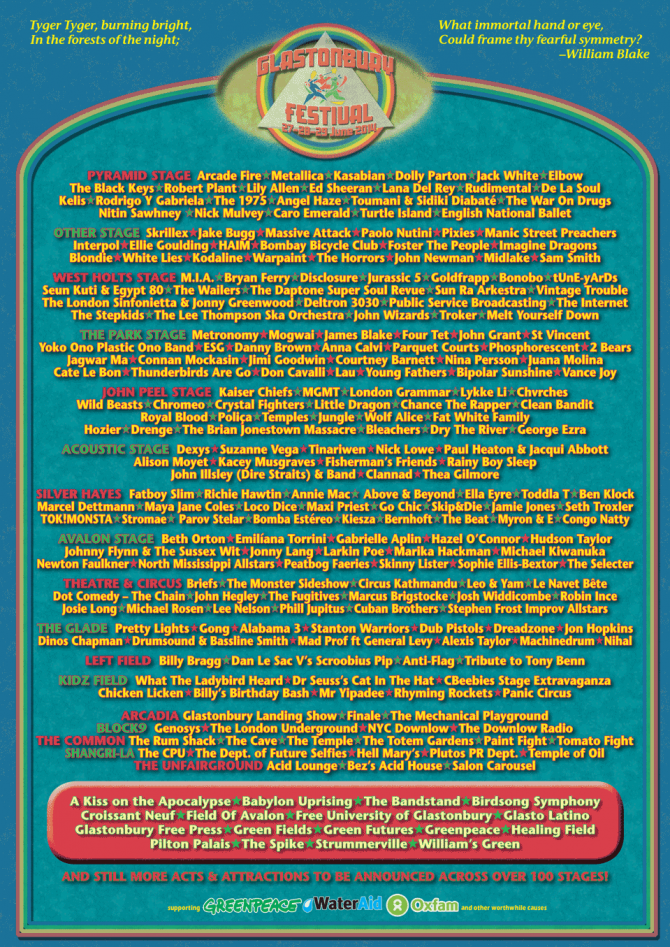 If you're going to Glastonbury this year and want to know what bands are clashing with each other on the bill, then want no more as festival organisers have released the full schedule.
You can see it in full over on the Glastonbury website.
Band clashes are obviously a subjective thing, so I've listed some of the worst clashes for me below. Let me know what the most annoying clashes for you are in the comments at the bottom of this post…
Glastonbury clashes
Friday
ARCADE FIRE / MIA
INTERPOL / CHVRCHES
DE LA SOUL / DELTRON 3030
Saturday
JAKE BUGG / MOGWAI
JACK WHITE / GOLDFRAPP
Sunday
BOMBAY BICYCLE CLUB / THE BRIAN JONESTOWN MASSACRE
WHITE LIES / PUBLIC SERVICE BROADCASTING
On the first scan there's not as many clashes as usual – is that a good thing or does it mean the line-up is crap!?