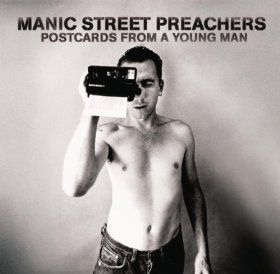 Manic Street Preachers – Postcards From A Young Man
Anyone expecting the Manics' new album to build on Journal Of Plague Lovers' resurrection of their angsty, political roots must have been flummoxed by lead single '(It's Not War) Just The End Of Love'. Its sweeping strings, towering chorus and verses ripped straight from Smashing Pumpkins' 'Tonight, Tonight' didn't exactly promise the blistering and progressive political critique many fans would have hoped for. These fans would have been even more disheartened to hear Nicky Wire recently admitting to being "nervous" about Postcards…. being too "commercial".
While he wasn't kidding about the album being commercial, there's no need to be nervous about it. For the most part Postcards From A Young Man soars – and is a bold declaration of where they see themselves as a band after scratching the Richey Edwards itch one last time with Journal Of Plague Lovers. They know they can't be that radical, sloganeering band without Richey; so with Postcards… they throw absolutely everything at what Wire has called their "last attempt at mass communication".
The title track follows '… Just The End Of Love's' lead with radio-friendly, sing-along verses and another powerful chorus. Some Kind Of Nothingness, featuring Ian McCulloch, throws gospel choirs and a full-on orchestra into the mix and, as all these elements combine, creates the albums stand out moment with a chorus the size of the sky.
The Descent (Pages 1&2) takes a more traditional rock approach, with an intro reminiscent of Oasis' plundering of 70's glam rock, but still can't escape the lush string arrangements and sweet harmonies the Manics seem hell-bent on lavishing on every song on Postcards…
The more you get into the album the more it seems the Manics have perhaps focused too much on its commercial potential, losing some of their own unique appeal along the way. At times the lavish orchestral movements and soaring choruses simply get in the way of a good song. The gloriously nostalgic and reminiscent lyrics on 'Hazelton Avenue', for example, would be much better served with a stripped back, melodic backing rather than having to compete with sweeping orchestral movements et al.
This is a minor foible though, as most of Postcards… works perfectly as a body of work geared towards maximising exposure and achieving 'mass communication'. For Manics fans hankering after a bit of Generation Terrorists or The Holy Bible – when storming melodies and ridiculous Guns N Roses-esque solos reigned supreme – A Billion Balconies Facing The Sun fits the bill perfectly, and even features a contribution from Guns' Duff McKagan.
Even though Postcards… is aimed well and truly at radio playlists, the Manics can't resist laying a few provocative and political lyrical seeds. This includes lamenting Britain's declining manufacturing industry ('All We Make Is Entertainment') and a swipe at uber-capitalist Google ('Dont Be Evil'), amongst others.
With Postcards From A Young Man, the Manic Street Preachers have achieved exactly what they set out to do. The album is crammed full of arena-filling potential singles which should provide them with the mass communication they seem to crave – albeit at the expense of the radical political dynamics that used to set them apart from the rest.
8/10