Florence and The Machine new album title and release date…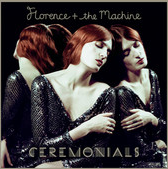 The long-awaited new album from Florence and The Machine will be called Ceremonials and has been scheduled for release on 31st October.
The full details of the album, including the cover artwork and tracklisting were added to the iTunes store today. The album, the follow-up to Florence's mega successful 2009 debut Lungs, was produced by legendary producer Paul Epworth – who recently talked up the album on Twitter, describing it as having 'no weak tracks'.
The full 13-song tracklist entered on iTunes includes 'What The Water Gave Me', which was recently released online:
Florence and The Machine 'Ceremonials' tracklist:
'Only If For The Night'
'Shake It Out'
'What The Water Gave Me'
'Never Let Me Go'
'Breaking Down'
'Lover To Lover'
'Seven Devils'
'Heartlines'
'Leave My Body'
'Spectrum'
'All This And Heaven Too'
'What The Water Gave Me'
Post written by Luke Glassford - founder, editor, writer and everything else at All-Noise.